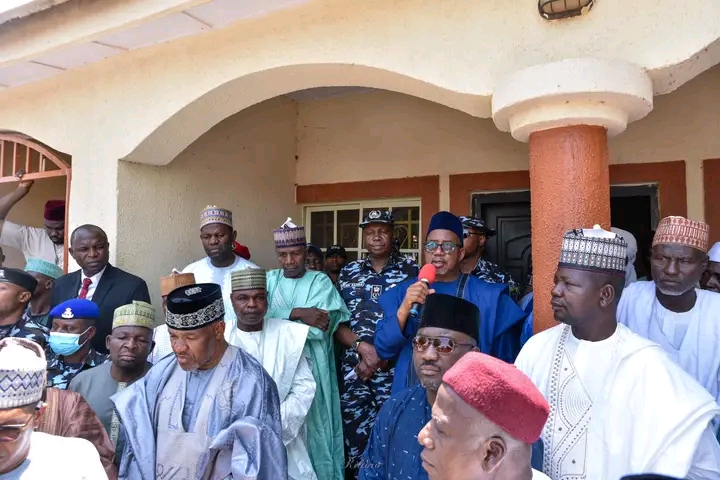 By Sulaiman Maijama'a
Unlike the previous week, the Executive Governor of Bauchi State, Senator Bala Abdulkadir Mohammed (Ƙauran Bauchi) has spent this week with running most of the affairs of the state in Bauchi.
According to the Special Assistant to the Governor on New Media, Lawal Muazu Bauchi, Governor Bala, on Tuesday June 26, sympathized with the family of late Alhaji Abdulkadir Mijinyawa Kongo over the death of Hajiya Hauwa, whose demise according to him is, a huge an irreparable loss.
The governor who was accompanied by the Secretary to the State Government, Deputy Speaker, BAHA, among other dignitaries, prayed for the family and sympathized with friends and associates, calling on them to continue to pray and imbibe the good tradition of the deceased.
On Wednesday, June 22nd came a report that Senator Bala Abdulkadir had met with his Rivers state counterpart, Nyesom Wike and Nigeria's former Attorney General, Mohammed Adoke in Port Harcourt, the capital of Rivers state
In another development, on Saturday, June 26, Governor Bala interacted with stakeholders, traditional rulers and security agencies at Pali District Head palace when he paid a sympathy visit to the community.
The governor, reiterated his administration's commitment to strengthening the security of lives and properties of citizens of state, calling on traditional rulers to collaborate with security agencies by reporting any suspicious person, group or movement.
He added that his administration would continue to ensure criminals are crushed and dealt with, saying that protection of lives and properties of citizens and residents of Bauchi state remain his top priority.
Governor Bala while calling on security agencies to dilate their activities and patrol, said he would continue to provide them with necessary support in addition to entertaining community leaders in an effort to strengthening the security and promotion of peace and unity among the citizens.
In their separate remarks, the Executive Chairman of Alkaleri Local Government, traditional rulers and stakeholders applauded the governor for his prompt visit and intervention.
Governor Bala was accompanied by the Secretary to the State Government, Barrister Ibrahim Kashim among other dignitaries.
On the same day, Governor Bala took chance to go to Narabi community of Toro Local Government Area to sympathize with the family of a girl who was kidnapped and later killed by her abductors.
Senator Bala called on the citizens and residents of the state to be vigilant by providing security agencies with necessary support in the fight against terrorism, violence and division.
Peace, according to Mohammed, remains the identity of Bauchi State, hence the need to ensure criminals and perpetrators are fished out with the support of community leaders and residents, adding that his administration remains committed to keeping lives and properties of citizens safe and secured.
Governor Bala while calling on security agencies in the state to ensure criminals are defeated said saboteurs of security and unity of Bauchi State will neither be forgiven nor entertained.
He was accompanied by top government officials, security agencies and stakeholders.
Maijama'a, Faculty of Communication, Bayero University, Kano compiles
sulaimanmaija@gmail.com