By Sadeeq Muhammad Umar
Governor Bello Mohammed Matawalle of Zamfara Wednesday commenced the disbursement of N10,000 cash to poor and vulnerable persons in the state.
Matawalle said the scheme, which is under Zamfara Poverty Alleviation Agency (ZAPA), was designed for one million beneficiaries.
The governor, who was represented by the Deputy Speaker, Zamfara State House of Assembly, Alhaji Musa Bawa-Musa, said the scheme is aimed at reducing unemployment and poverty.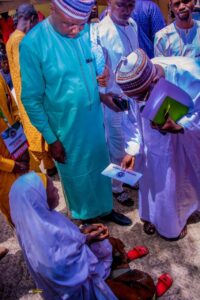 The Director-General of the agency, Ubaidullahi Yahaya-Kaura, said the beneficiaries of the cash transfer included persons with special needs, small-scale traders, widows and orphans.
The Zamfara state poverty alleviation Agency (ZAPA) would continue to perform its mandate of reducing scourge of poverty in all nook and cranny of the state. This will no doubt, be achieved through conditional cash transfers programme to poor and vulnerable in order to support them in their day to day activities
The ZAPA CCT Assistance programme is designed to benefit poor and vulnerable households from time to time with a stipend of 10,000 nairas. The Beneficiaries will also receive training as well as financial and technical support to start small scale businesses Insha Allah Ubaidullahi said.
The ZAPA poverty alleviation programme 2022 is part of the Governor Bello Matawalle Maradun commitment towards ensuring poverty free society where by thousands of Zamfara state people will become self reliance begins this year February 2022.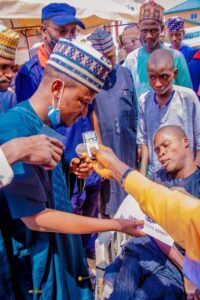 Speaking at the event, the ZAPA Special Adviser Alh. Aliyu Ibrahim Ajala, said the programme was introduced to overcome the failings of the past and to shift Zamfara state people from poverty through capacity building, Empowerment, and direct support.
He said the Zamfara state Government is paying more attention to promoting the plight of the poor and vulnerable in the state which he said informed the decision to initiate the ZAPA CCT programme as a strategy for enhancing social inclusion.
The ZAPA CCT Programme was introduced in 2022 under the Zamfara state poverty alleviation Agency, to sustain the social inclusion agenda of Governor Bello Matawalle Maradun of lifting 1million people out of poverty in 3 years
ZAPA CCT is an intervention that seeks to cushion livelihoods of vulnerable and low-income households from the socio-economic impact of the Insecurity and COVID-19. The cash transfers targets those who primarily derive their livelihoods from the informal sector, especially those who depend on piecework, petty trading or those who may have been laid off from work.