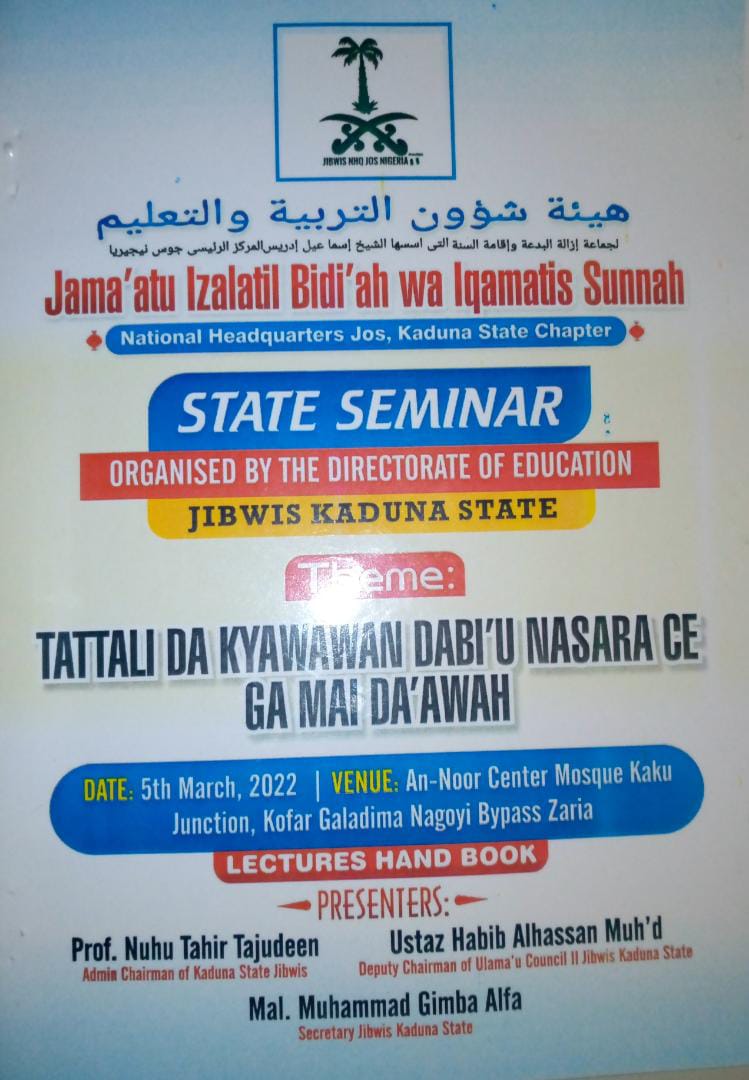 By Mu'azu Abubakar Albarkawa, Kaduna
Jamaatu izalatul Bidia waiqamatus sunna Kaduna state branch has organized a one day state seminar to Islamic scholars across the state.
The state chapter chairman professor Nuhu Tahir Tajudeen stated this while speaking to newsmen in Zaria.
Professor Nuhu Tajudeen explained that the aimed of the seminar is to impacts skills and techniques on Islamic scholars across the state who would conduct Ramadan tafsir.
He pointed out that conducting Ramadan tafsir is not an easy Tasks so they need more awareness on how to handle issues among their listeners and viewers.
The chairman stressed the need for Islamic scholars and ulamahs to intensify efforts at preaching according to the teachings of Quran and the saying of prophet Muhammad peace be upon him.
Professor Nuhu Tajudeen advised Islamic preachers to fear Allah while conducting Ramadan tafsir across the country.
In a remarks the chief imam annoor Jumaat mosque kaku Zaria sheikh Muhammad KABIR Mikhail Alshikawee said the seminar was attended by Islamic preachers especially those who would conduct the Ramadan tafsir across local government areas of Kaduna state.
Sheikh Muhammad KABIR Mikhail added that it is the tradition of jamaatu izalatul Bidia wa 'iqamatus sunnah to conduct seminar every year aimed at educating the scholars that would conducted the Ramadan tafsir to achieved desired objectives and get Allah's rewards.
He commended the commitment of izala leaders and members towards the successful conduct of the one day seminar held in Zaria local government area.