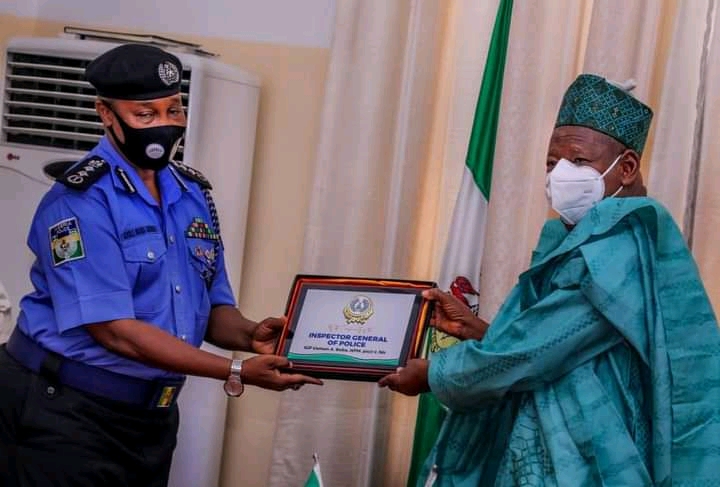 Inspector General of Police (IGP), Alkali Baba Usman commended governor of Kano state, Dr Abdullahi Umar Ganduje's administration for genuine commitment in securing the state, amid security challenges plaguing the nation.
He made the commendation when he paid a courtesy visit to the governor at his office, Wednesday, appreciating that, governor Ganduje needs to be commended for "…making Kano people sleep with two eyes closed."
"In Kano, I have seen community policing in action. I have seen partnership among the security agencies in action and with the security agencies," he said.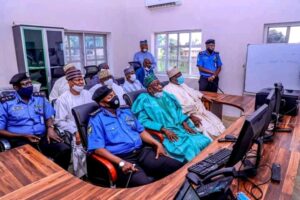 "I am happy to inform the governor that, we are glad to see that, with the community policing in the state, we have 714 added to the strength of the police in the state," he stated.
IGP Usman appreciated that, " I can see how Kano is going e-policing. I can also see how His Excellency is seeing Kano directly from his office on screen."
Urging Kano people to be proud of the governor for his concern about the security of the state, adding that, "We must appreciate that with all the populous nature of the Kano, it is still one of the most peaceful states in the federation."
In his remarks governor Ganduje commended the cooperation of all the security agencies in securing the state, emphasising that "We have full cooperation from our security agencies. And there exists full synergy among them also."
"In our community policing strategy we have 5 stages, where each stage is headed by the highest traditional leader there. With the exception of the highest stage on the ladder, the state level. Which is headed by the Secretary to the State Government (SSG).
At the village stage, we have Dagaci heading the community policing committee, at Ward level we have Mai Unguwa, at local government level we have Distict Head, at the Zonal level/Emirate level, the first class Emir of the Emirate heads the committee and at the state level, we have SSG, heading the committee," he explained.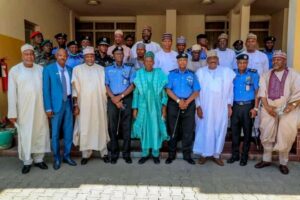 While trying to thank the IGP, he observed that, "It is absolutely necessary to introduce technology in managing the security of our state. As criminal activities have gone to the next level, our approach to tackle that must also go to the next level."
The Inspector General of Police presented to the governor a Plaque of commendation to appreciate the governor over his unrelenting effort and commitment in securing the state, with the Divine help of the Almighty Allah.