Bauchi State Governor, Senator Bala Abdulkadir Mohammed alongside the chairman, Board of Trustees, (BoT) of the People's Democratic Party (PDP), Senator Walid Jibrin today performed the official commissioning ceremony of General Hospital in Dambam Local Government Area constructed by Governor Bala-led administration.
In his speech, Senator Walid Jibrin said it hoped that the newly constructed General Hospital would be a place for training nurses, midwives, doctors as well as reference point for clinics and medical centers.
He said the BoT are satisfied with the efforts of Governor Bala in providing life-changing projects for the development of Bauchi State and its people.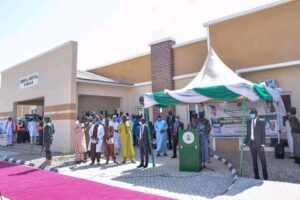 He commended Governor Bala for playing a vital role in strengthening and uniting the PDP and for his outstanding performance in the in the delivery of dividends of democracy to his constituents.
Senator Jibrin added that, Governor Bala has fully carried the objectives of the PDP by executing developmental activities in the areas of health, education, agriculture, trade, commerce and roads.
On his part, Governor Bala said his administration will continue provide more projects in the sector.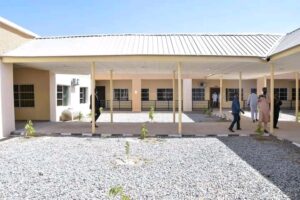 Working to provide the health sector with the required human resources is what according to the Governor his administration will continue to give priority and has since approved recruitment of 100 medical doctors and 1,060 medical/paramedical professionals.
Governor informed the gathering that his administration has succeeded in the execution of projects with direct bearing on lives of the people of the state.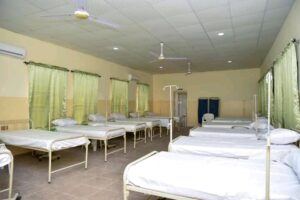 In their separate remarks, the Bauchi State PDP Chairman, Hamza Koshe Akuyam and State Commissioner for Health, Dr Sama'ila Dahuwa applauded the efforts of Governor Bala towards ensuring advancement in critical sectors of human survival.