Bauchi State Governor Senator Bala Abdulkadir Mohammed today has been presented with an endorsement letter by Northern Youth Leaders Forum(NYLF) for Presidential race.
The forum presented letter today during a solidarity visit to the Governor at the Banquet Hall, Government House, Bauchi.
Receiving the letter, Governor Bala described it as great honor to him and the people of Bauchi State.
He expressed gratitude to the forum for finding him worthy of the endorsement, pledged to respond to them in three weeks time.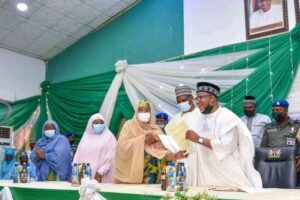 The Governor said for a forum with about fourty two affiliated groups and more than four million members to endorse him for the presidential race is a call for him to continue to serve people.
He said he will soon announce his position on the matter after consulting critical stakeholders including members of the PDP Governors Forum, Ministers, National Assembly as well as prominent Nigerians.
Governor Bala therefore pledged to remain focus in coming up with policies and programes for the welfare of Nigerians.
Earlier, the National Chairman of the Forum, Comrade Elliot Afiyo said the visit was to officially present to the Governor the endorsement letter to contest presidential position come 2023.
He said the forum will mobilize Nigerians for the Governor and have already agreed to work for his victory.
The National Chairman said the NYLF has taken interest when Governor Bala defeated an incumbent governor during the 2019 General Election, first of it's kind in the history of Bauchi State.
He assured the Governor that no amount of intimadatons, frustrations, threats or inducements will make them change their decision.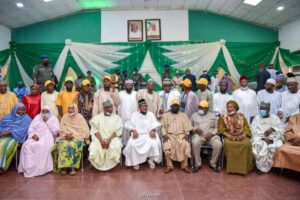 At the the occasion, the forum conferred the Governor the title of Tambarin Matasan Arewa in recognition of his contribution to youth development.
In a vote of thanks, the Bauchi state PDP Chairman, Hamza Koshe Akuyam assured the Governor of the support of members of the PDP Working Committee at all times.